How Tech Can Promote Human Security
The key to securing the health, wealth, freedoms and future of the planet's populations is committed collaboration on a global scale. But how? That's where technology comes in.
Two thought leaders aligned with the Human Security for All (HS4A) campaign shared insights on the topic in a rare discussion on this idea. This podcast, hosted by CES Tech Talk, features former New Zealand ambassador to the United Nations Amanda Ellis with former CEO of AOL and News Corp, and current Advisory Council Member at Force for Good, Jon Miller. Their real-world experience in affecting change is central to the HS4A campaign.
In this episode, titled Tech for Humanity: Advancing Lives Through Innovation, Ellis and Miller explore how investments can yield significant returns, why social impact causes are attracting top talent, and how the world's technology companies can realize bottom-line benefits as they contribute to more stable and sustainable communities. 
"Technology empowers the individual to take action with their parliamentarians and be able to say, 'Hey, this is going on," said Ellis. "We know, and you guys need to be really living up to your commitments under the Paris Agreement.' So for me, the huge opportunity, particularly in climate for tech as a force for good, is to empower the individual human to know what's going on, hold business to account, and vote with our wallets."
As Miller said, the companies that help solve humanity's challenges will be the ones that "own the future." He spoke at length on how and why this is today's reality.
"Two considerations directly impact a brand's status in the marketplace. First, consumers worldwide favor brands that stand for something meaningful, and they'll buy on that basis. Second, a company's commitment to important causes directly impacts recruiting success. Increasingly, the most in-demand hires care about causes such as the environment and diversity," said Miller.
"As AI evolves, a robust set of guardrails are needed, as Ambassador Ellis pointed out. It's technology's role, she says, to "shine a spotlight on the potential for misuse."
HS4A will be front and center again at CES 2024 in early January 2024, through exhibits, the Great Minds speaker series, and elsewhere during the event.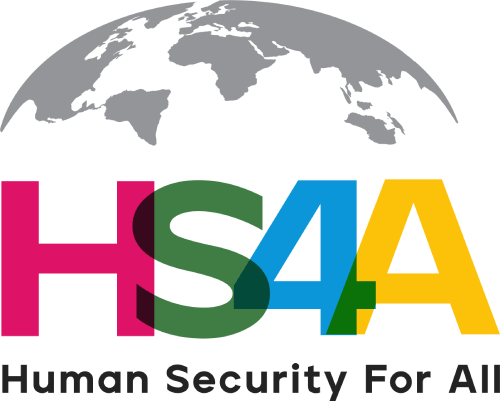 The Human Security For All (HS4A) is a global campaign led by the United Nations Trust Fund for Human Security and the World Academy of Art and Science in partnership with a broad constituent of entities and citizens like you. Our aim is to Promote human security among networks of people who play key roles in adopting new ideas and translating them into action – policymakers, youth leaders, private sector innovators and financiers as well as educators, scientists, artists and more.