Interfaith Symposium Highlights Human Security as a Force for Peace
More than 600 people attended the Ninth Annual Symposium on the Role of Religion and Faith-based Organizations in International Affairs, held in-person and online in New York on 24 January.
Exploring the theme "Securing People's Wellbeing and Planetary Sustainability," the symposium was organized by the World Council of Churches (WCC) and a coalition of faith-based and UN partners. The event featured UN officials, representatives of international faith-based organizations, and other experts on climate change, disarmament, and other relevant topics.
WCC central committee moderator Bishop Dr Heinrich Bedford-Strohm, who spoke at the symposium, noted that religion reaches not only people's heads but also their hearts. "That is why religious communities are so important in issues like human wellbeing and planetary sustainability that are highly linked to our attitudes and lifestyles and can only be successfully pushed if political change is connected with a change of heart," he said. "All together we want to secure people's wellbeing and planetary sustainability as religious communities."
Symposium attendees included the Rev. Dr. Liberato C. Bautista, assistant general secretary for United Nations and international affairs of the General Board of Church and Society of The United Methodist Church, who served as chair of the 2023 Symposium Planning Team. "An effective security paradigm must be non-discriminatory and inclusive in order to provide reliable assurances for all and not just for a few," said Bautista. "No nation can feel secure unless all nations feel secure. The necessary conditions for this are well known: adherence to established norms and principles of international law, respect for generally accepted standards of healthy interaction among nations and good faith compliance with accepted commitments – in a word, ethical behavior. This is the foundation on which people's well-being and planetary sustainability can be achieved."
HS4A team members delivered addresses that focused on the various ways faith-based organizations might approach the concept of human security. Garry Jacobs of the World Academy of Art and Science, Mehrnaz Mostafavi of the UN Human Security Trust Fund, and Jonathan Granoff of the Global Security Institute all spoke about how faith-based groups could embrace the concept of human security and turn it into action. HS4A campaign supporters Amanda Ellis, Former Ambassador and Permanent Representative of the Mission of New Zealand to the United Nations in Geneva, and H.E. María Fernanda Espinosa Garcés, Former Minister of Foreign Affairs and Defense of Ecuador joined the event to express how all voices can join forces to create a more peaceful world.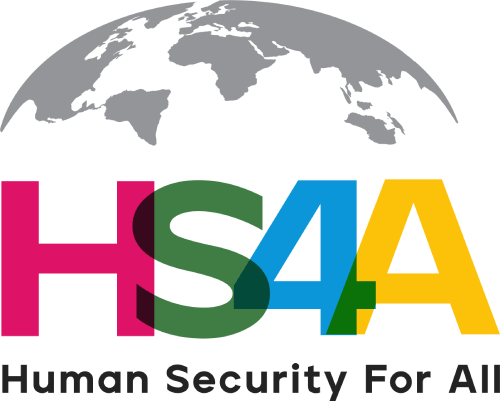 The Human Security For All (HS4A) is a global campaign led by the United Nations Trust Fund for Human Security and the World Academy of Art and Science in partnership with a broad constituent of entities and citizens like you. Our aim is to Promote human security among networks of people who play key roles in adopting new ideas and translating them into action – policymakers, youth leaders, private sector innovators and financiers as well as educators, scientists, artists and more.